Golfing Overview - Introduction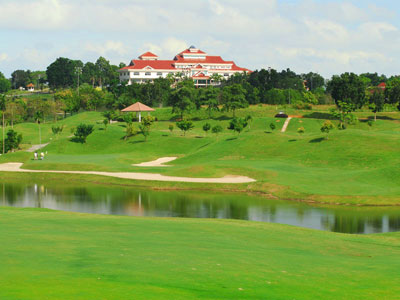 Orna Golf & Country Club (OGCC) is located on an undulating Site just seven minutes from the Ayer Keroh interchanged of the North South Highway and 25 minutes from Malacca city, Malaysia. The first thing that strikes you when you drive into OGCC is its unique clubhouse, undoubtedly one of the most distinctive looking in the country.
The resort rooms are spacious and well-appointed, while recreational facilities include a beautifully landscaped swimming area with a large main pool, children's pool and Jacuzzi, tennis courts and karaoke rooms. The 350 capacity Chinese restaurant serves superb Chinese cuisine with great views of the golf course, and is an extremely popular venue for weddings and other banquets. For larger functions, OGCC has a 700 capacity banquet hall, while conference rooms are available for corporate utilization.
Orna Golf & Country Club has gained a well deserved reputation as one of the toughest and most challenging golf courses in the south of the Peninsula since it opened for play in late 1997. American Andy Dye's sweeping creation is characterized by heavily mounded fairways, set between uphill slopes top create the impression of golfing through shallow valleys, punctured by huge bunkers and lined by strategic water.
Orna Golf & Country Club provides a tough test of golfing skill even for the region's best professionals. Orna's 27 hole golf course, which in January hosted the Davidoff Tour's Qualifying School for the year 2001 - 2003. Professionals from all over Asia, Europe and America have found Orna's championship combination of the East and West Nines to be more than a match for their undoubted skills.
Click here
for Online Golf Booking.